What's happening at KyliesKoders?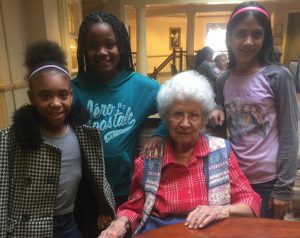 The following is a snippet of one of the movie portals, coded by Estrella. Pictures and details have been changed/omitted to protect the privacy of the residents. If prompted to allow Adobe Flash, press allow to view.

---
Who Are We?
Let's start with some facts:**
Women own only 5% of tech startups.
Only 28% of computer science degrees are earned by women.
Only 25% of computing jobs are held by women.
The "quit rate" is more than double for females in tech than males (41% versus 17%)
Earnings for women under 25 are 29% less in the tech industry than for men.
However, 74% of elementary age girls express an interest in a STEM field. Where's the disconnect?
At KyliesKoders, we work to empower these young girls, giving them computer science instruction early on and breaking down the stereotype of the "brogrammer."  We believe that through team-oriented, welcoming environments and exciting workshops and classes we can build up the confidence and excitement of girls and minorities to jump-start them on the path to higher education studies and an eventual career in STEM.
**Reported by http://observer.com/2017/06/women-in-tech-statistics/