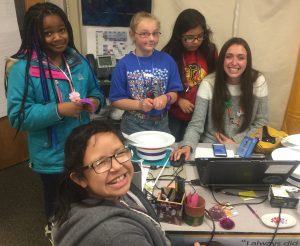 KyliesKoders (also known as Lil' Huskies Coders, after the school's mascot) met each Monday for an hour during the school day for Holm's first Core-subject coding class in Scratch. With the support of an AspireIT grant won through the National Center for Women in Information Technology, I built the curriculum and ran the group, which consisted of 15 fourth-grade girls who worked hard to learn programming concepts and teamwork skills.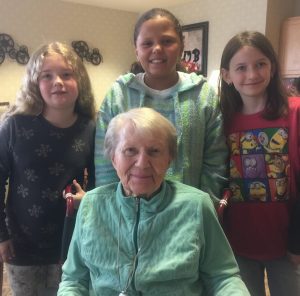 The girls are all students at an urban Title I school in Denver Public schools.  The group was 80% girls of color,  60% were being taught in Spanish and thus were just learning English, and 87% were on free and reduced lunch. None had any experience in STEM, with over half not having computer or internet access outside of school.  Participation was free and the teachers decided to offer the class during the school day to allow the greatest impact, and to allow the girls to attend without needing to determine rides, etc. I arranged to have a double off period in my schedule and drove over from my own high school to run the class each week.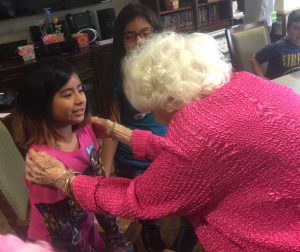 My connection with Sunrise Senior Living came from my volunteer work there over multiple years. Loneliness and depression are common among residents in assisted living homes; thus, new faces and company are always welcome. For this year's culminating project, our coders went on a story-gathering mission to connect with residents, learn about their lives, program animated movie portals, and share them with the residents' families!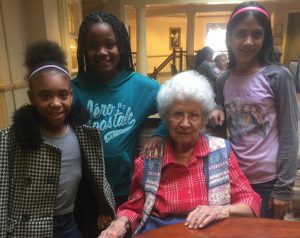 The girls learned a ton about hard work and perseverance, and even when it was frustrating, they learned to problem solve, lean on one another, and stretch their learning, achieving previously unimaginable rewards. Through this process, we enhanced inter-generational and cross-cultural connections through the universal language of code. It was amazing to watch the girls, some of whom have only been in the country for weeks or a few years connect with residents of very different backgrounds and upbringings, who have lived here for decades upon decades!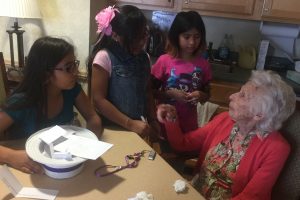 With the support of the grant, the girls were also compensated with prizes and gift cards for their hard work, demonstrating how sticking with STEM and pursuing careers in technology will pay off in the future. The pride the girls felt in their work and their accomplishments shone through! 
The following is a snippet of one of the movie portals, coded by Estrella. Pictures and details have been changed/omitted to protect the privacy of the residents. If prompted to allow Adobe Flash, press allow to view.